INFRASTRUCTURE
MANUFACTURING
WELDING
QUALITY
LOGISTICS
INFRASTRUCTURE
VIKRANT HEAT EXCHANGERS PVT. LTD.
MAIN FABRICATION SHOP
TOTAL AREA
60,000 SQ. FT.
COVERED FABRICATION SHOP
25,000 SQ. FT.
PRE-FABRICATION SHOP
10,000 SQ. FT.
MACHINING AREA
5000 SQ. FT.
STORE (COVERED)
5000 SQ. FT.
OPEN YARD
5000 SQ. FT.
STORAGE YARD
8200 SQ. FT.
OFFICE
1800 SQ. FT.
MANUFACTURING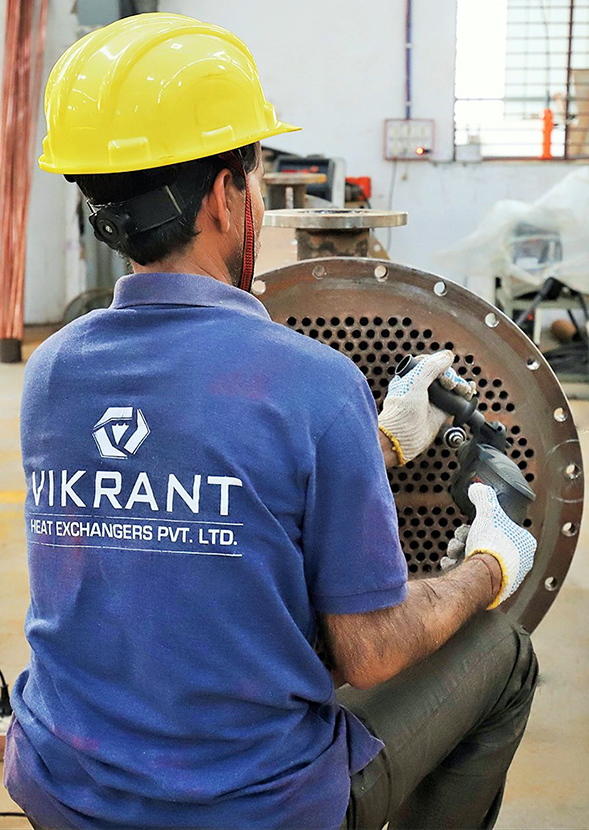 Our manufacturing facility in Ahmedabad, India is spread across an area of 60,000 SQ. FT. with 1 heavy and 1 light fabrication bay. The high-end as well as versatile nature of our facility can is testified by the fact that we can manufacture equipment ranging from 1 MT. to 100 MT.
The ingeniously designed Fabrication unit has the capability to manufacture equipment ranging up to 100 MT. with equal ease and the specifications include:
Diameter of Equipment
Up to 3 meters (Larger dimension can be evaluated in case to case basis)
Length
Up to 15 meters in single piece (Fabrication)
Weight
Up to 100 metric tons per equipment.
Tube Size
From 6mm OD to 90mm OD.
Tube Sheet Thickness
Up to 200mm THK.
WELDING
At Vikrant Heat Exchangers Pvt. Ltd. we have acquired high level of skill in the core process of welding with decades of experience. Our constant Endeavour is to get the work done by best and certified welders which provides us with a competitive edge along with highest quality.
We possess over 200 qualified welding procedures and high degree of expertise in various materials and welding processes.
QUALITY
Quality has always been the bedrock of success for Vikrant Heat Exchangers Pvt. Ltd.. We continuously introspect and improvise our quality processes, procedures and practices to ensure that we do it right the first time, every time. Delivering products and services that meet client requirements, on time and within budget is one of our main objective.
Every equipment that is manufactured in our facilities is a custom built with unique dimensions and applications. However, with proven procedures and rigorous discipline, attention is given to every small detail to match best standards to fabrication.
Having a systematic quality documentation procedure, our skilled and dedicated team of quality personnel carry detailed inspections through the various phases of manufacturing thereby ensuring a high quality product that meets the customer's requirements.
Certified ISO 9001:2015 for Quality Management Systems.
Certified ISO 14001:2015 Environment Management System
Certified ISO 45001:2018 Occupational Health and Safety Management System
Experienced and trained Quality Inspectors.
Sourcing tested materials from reputed and well established manufacturer / suppliers.
To remain abreast of changing trends in technology globally
To continuously upgrade our own standards and benchmarks.
At VHEPL, we have the passion and commitment to see a smile on our customers face.
LOGISTICS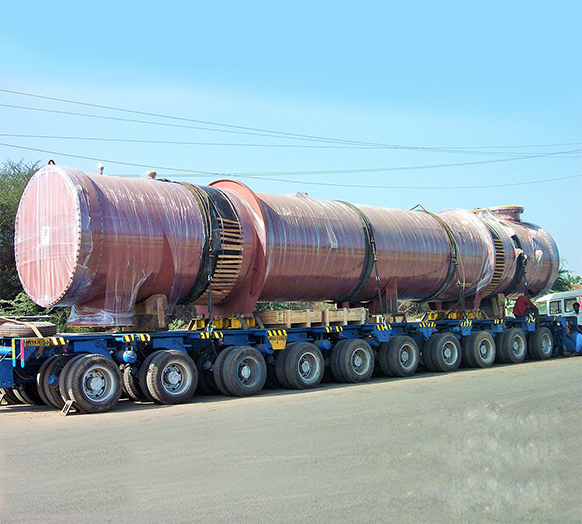 Set in the vibrant city of Ahmedabad, India our facility is conveniently located close to some major national highways, ensuring smooth logistic operations by road. It also has easy access to all the major sea ports in the West of India. The Mundra and Kandla ports of Gujarat are 400 km and 350 km away, whereas the Mumbai port is at a distance of 550 km from our facility
Our dedicated logistics team further ensures the seamless movement of equipments from our unit to our client's site, anywhere across the world