Welcome to Vikrant Heat Exchangers Pvt. Ltd
Heat Transfer Specialist
Vikrant Heat Exchangers Pvt. Ltd. was formed in 1994 by Mr. Jagdish Lamoria, a first generation entrepreneur started business with the name of Vikrant Comp Tech System. Initially the company provided fabrication and engineering services like manufacturing of all types of Heat Exchangers and Pressure Vessels to the local Industrial sector, particularly the Process Industry and Power Sector. It was started with an objective to provide good quality fabrication in and around the local Industrial area.
With a modest beginning in a 2700 Sq Ft rented workshop and five people, the company through sheer hard work, planning and a never-say-die attitude has grown to a well established fabrication facility with advance equipment and machineries.
In 2007, the second generation of the family, elder son Mr. Vikrant Lamoria joined the Business. Bringing in discipline, systems and procedures the company edged forward towards implementing new business strategies. With new energy in the company, there has been a continuous inflow of new ideas and brainstorming sessions with only one objective.
We Don't Just Sell, We Build Long-Term Business Partnership
Earlier founded as Vikrant Comp Tech System the company rebranded its existence to Vikrant Heat Exchangers Private Limited in 2017 and developed its State-of-Art manufacturing Unit to 45000 Sq. Ft. Area in Ahmedabad, India. Vikrant Heat Exchangers Pvt. Ltd. actively got involved in supplying equipment, fabricated components and services to major Industries in India as well across globe.
In 2018, younger Son Mr. Rahul Lamoria joined the family business and revitalized the companies strength and got in more enthusiasm in VHEPL team to scale to higher heights. Since then, the company is on a continual development path and has broadened its horizons by focusing on taking its products and services to the global market.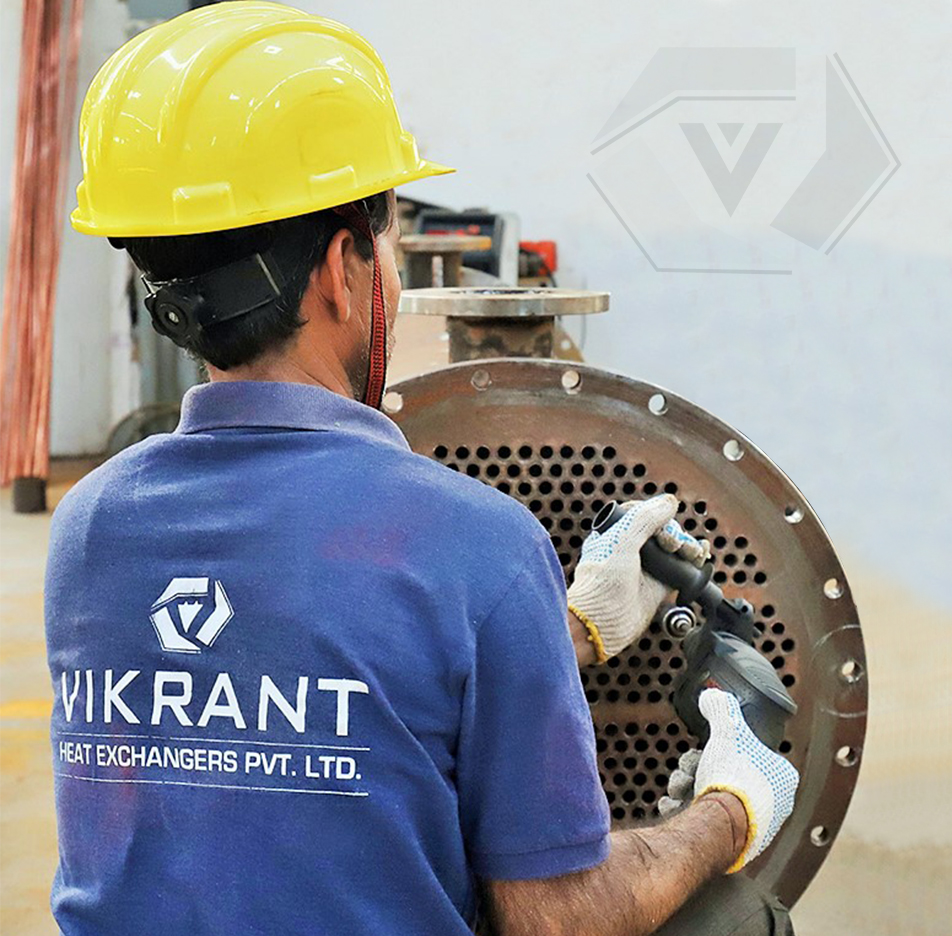 Doing Our Part Is Solving Your Heat Transfer Need
Customer Satisfaction
Vikrant Heat Exchangers Pvt. Ltd. is committed to maximum customer satisfaction by providing consistent, reliable, latest technological and cost effective product. It will be our endeavour to meet & exceed customer expectation
Advantage
As a company of immense repute among its clientele and with a diverse global footprint, the brand VHEPL is synonymous with reliability and quick turnaround time along with a reputation to deliver products with the highest quality standards.
Advanced Technology and Robust Design
VHEPL is having in house facility of design & engineering with international design codes, standards, software's, tools and competent experience team of engineers. As well as our products are always equipped with the latest technology and designs to make sure our customers get the world class quality products.